This month, we are excited to showcase Ekatarina Popova, the visionary behind Create Magazine and Art Queens. Her entrepreneurial spirit is a tremendous source of inspiration, and we're excited to illuminate her journey for our readers. Explore our blog to learn more about the incredible initiatives she is leading within her community. 
Can you share the journey that led you to become an artist? Were there any pivotal moments or experiences that helped to shape your artistic path? 
I have always been creative. Ever since I was a little girl, you could find me doodling, coloring, making things with clay, or sewing clothes for Barbies. When my friends wanted to play outside, I had to fight them to stay in and color. Creativity was always something I was obsessed with. However, when I moved to America and started high school, I was lucky enough to have an art teacher, Wendy Hall, who encouraged my art. She snuck paint tubes for me to take home, let me crash the art room during lunch and study hall, and eventually encouraged me to get my bachelor's. I'm forever grateful for her support.
How do you decide on the subject matter and style of each piece? Are there any recurring motifs that hold personal significance?
When I first started building a portfolio in college, I painted old homes from photos we brought to the US with us. A few years after graduating I realized that I was looking for that feeling of home, rather than a literal representation. I began noticing interiors and still lifes around me. Home, belonging, light, space, and color are recurring patterns in my work. These days I've expanded to painting nature and love taking my small easel and sketchbook outside as much as possible. The planet is our true home after all.
Collaboration and inspiration often play a role in the creative process. Are there other artists or sources outside of the art world that have influenced your work?
Absolutely. I love collaborating with artists and creative entrepreneurs for specific projects. Community is very important to me and I love nurturing my relationships. My studio neighbor and friend, Phyllis Gorsen, and I frequently have shown together at galleries and art fairs. In business, my friend Alicia Puig and I wrote books and courses together. There are several other examples I can share. "If you want to go fast, go alone. If you want to go far, go together."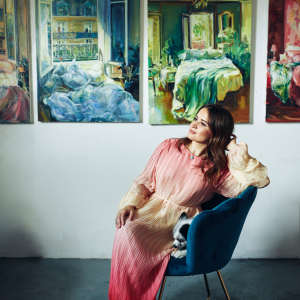 Art has the power to provoke thought and discussion. Are there any social or cultural issues that you address in your art? What message or conversation do you hope your art initiates?
My art is very personal and invites the viewer to have their own experience and response. I don't address any obvious issues in my work, but rather invite each person to draw their own conclusions and have their own meditative experience. It's more open-ended for me, though of course, if someone wants to find a deep meaning, they will.
Could you provide some insights into the inception of the remarkable community you established, known as "Art Queens"? How did this initiative come to fruition?
The Art Queens was born right on the brink of the pandemic because I was feeling very isolated and wished there was a community to turn to that was kind, supportive, and ambitious. I wanted to have a safe space to talk about my big dreams and challenges and just wasn't finding anything that existed. Since starting this community, we've served over 700 members and consistently maintain approximately 400 plus art queens in this space. We've met in person in several countries, members showed together at art fairs and it's truly a gift to be a part of this space.
The power of print is truly remarkable and inspiring. Tell us about how you launched your Create Publication and the wonderful success you have experienced with your subscribers.
Print has many challenges, but I am someone who loves analog books and stationery. It's been important for me to provide visibility and support for fellow artists and since launching my first magazine in 2013, we've had many challenges as well as growth. Create! Magazine is a boutique publication for contemporary artists and creative entrepreneurs that partners with curators and galleries to help lift rising artists on its pages. Since launching, we've expanded to writing books, hosting both virtual and in-person exhibitions and it's been a joy to grow slowly and steadily.
We love that you are passionate about paper and the power of the written word. Thank you for your recent purchases! We are so grateful! What is your favorite Dutch and Deckle item and why?
I personally love all that you create, but recently I have had a magical time with my pink spiral notebook. I love the size and format and it's the perfect luxurious item to help me with my creative writing in the morning. I use my Priscilla Loomis notebook for business ideas and planning masterclasses for Art Queens, as well as writing articles and interviews for Create! Magazine.
As an artist with a growing following, how do you engage with your audience and build a community around your work?
I try to think beyond social media for one. We all get so caught up on Instagram and the thing that helps me the most is being as consistent as possible on our blog, newsletter, and podcast. I feel more connected when I can share longer-form stories, tips, and interviews to help nurture and empower my community.
To learn more about Kat-
Website: www.katerinapopova.com
Instagram: Art Queens Coaching and Community | by Ekaterina Popova (@theartqueens) • Instagram photos and videos