This last month we met up with our good friend and favorite visual artist, Sarah Hanna. As a creator, business owner and mentor, she shared some valuable insights about pursuing your passions, gaining creative inspiration and of course, her favorite products that spark joy. We're thrilled for you to meet her!
Question #1 –  So, you are an incredible artist and founder of Art in Residence — tell us a little about yourself, your family, and where you're from. 
You are so kind. I am the daughter of an artist and a chef. That saying about "the apple & the tree" couldn't be more true — I love art, cooking, and the paths that both of those art forms have taken me. I grew up on the Caribbean island of Jamaica and I've been lucky enough to have called sunny Florida, California wine country, and the French Riviera home. I now live on the Chesapeake Bay in Maryland. Every chapter has its own flavor, sounds and adventure and I have loved them all.
I come from a big, loud, loving, talented family. My husband is a Grammy-recognized songwriter and music producer. With his brilliant addition to our family, we have all the art forms covered!
Question #2 – What ignited your passion for art?
I am a third-generation artist. As a child, I remember my mom saying to us, "You're bored? Go make something in my studio." The invitation to create and the freedom to make mistakes was the perfect combination for me.
Question #3 – How did you create the concept of Art in Residence?
Art in Residence was my Covid pivot. I was teaching at an arts & anthropology school in California for fun (luxury wedding calligraphy was still my main focus at the time).
During the lockdown, parents were cold calling me to teach their children art. My answer was, "I can't commit to a full semester, but I can teach your kids a semester in a day. You'll end up with a huge piece of original art, and the kids will have new tools and skills to explore art on their own."
Weddings are coming back, but I am having too much fun to return to them. I now travel all over the country to create large-format paintings with families, and I have never loved my work more.
Question # 4- Do you have a favorite Artistic Style that you gravitate towards?
Modern, abstract art is a perfect fit for the level of energy that kids bring to a canvas. I teach young artists techniques and creative thinking. They teach me to be fearless with the tools.
(That said, I'm a huge Mark Rothko and Henri Matisse fan.)
Question #5 – Given your intense travel requirements for your Art in Residence programs, how do you manage to balance your professional and personal life and keep it all together so well?
Oh, that's an easy one – I write things down. It's a simple but true answer — with the follow-up asterisk *Every day is a new day and you can't do it all! 
Question #6 – We love partnering with you, do you have any tips for our audience on planning and staying organized? What is your favorite D&D Product to help with the process?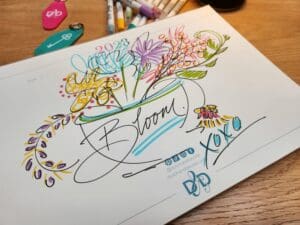 I adore everything about Dutch & Deckle! Every elegant detail is carefully considered, and that thoughtful craftsmanship is so clearly evident when you hold the products in your hands. I've always loved the Mohawk Paper philosophy "Materials Matter." If you put beautifully made things in your hands, you will surely create beautiful things with them.
I couldn't possibly choose just one favorite product. Every morning, I write my year's intention nine times in my personalized D&D journal. (My intention for 2023 is "This or something better.")
The D&D Large Desk Pad is absolutely perfect for illustration & doodles. Something about the size invites creativity in an undeniable way.
And don't get me started on the D&D Wedding Planner! With absolute confidence I say this: I spent 24 years in the luxury wedding industry, and it is the best planner I have ever seen. Ever. It is pure perfection.
Question #7 – Can you leave us with your favorite quote?
"The way you do anything is the way you do everything."
We loved chatting with Sarah and gaining insight into her artistic motivation. You can reach her and follow her on the following platforms to keep up with Art in Residence and all of Sarah's other exciting projects.
Instagram: @artfulcorrespondence
Website: www.sarahhanna.com