Introducing our latest feature in the Artist of the Month Series – The incredibly talented Samantha Sarles of Color Made Happy. Our paths crossed serendipitously at the Alt Summit in Palm Springs last March, and we couldn't be more thrilled to share her story with you. Samantha's art is a constant inspiration to our team. Her creations exude joy and brighten the lives of those who come across her art.  Join us as we explore the world of Color Made Happy and discover the magic that Samantha creates with her community. 
Tell us a little about your background and what inspired you to become an artist?
After 10 years in the corporate marketing world for a Fortune 500 company, my colorful projects all began when my son, my muse, was born in 2011. One of my very first craft projects was an alphabet wall I put together for my son's playroom. It was comprised of a collection of letters I collected from flea markets, antique stores as well as many I crafted myself. As my son grew into a toddler I started painting rocks to teach him colors, numbers, and letters. I also painted story stones for him that had whimsical characters and magical objects that we used to create imaginative stories. While my background was in marketing, I was always an artist at heart and was thankful for this new creative outlet.
What is your creative process like?
I have always felt that the creative process should be fun and carefree, so I try not to overthink my craft projects or art. My most viral projects tend to be ones that only took me 15 mins or less. I like the idea of easy, uncomplicated art that can be done in a single sitting. 
What do you hope people take away from your work?
I hope when people look at my crafts or art it just makes them smile!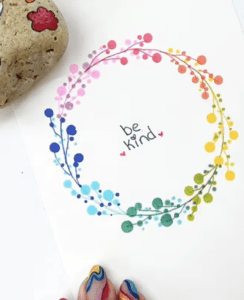 What are some of the challenges you've faced as an artist?
When my videos on social media go viral, I get a lot of angry comments from people who have negative things to say about my art. They don't realize that I'm not trying to create something complicated but rather I'm showing how anyone can create fun, colorful art. 
Also as a creator and artist I definitely go through periods of artists block. It usually comes right after a period of heightened creation. Along with the block often comes the fear that I may never have another great idea. While it's not completely rational, it can be a bit debilitating. When this happens I usually try to step away from my art for a bit and focus on being more present and taking care of my soul with exercise, meditation, reading and other healthy habits. When I focus on these other areas it allows the fear to dissipate and opens my mind up for the creative ideas to reappear. 
What advice would you give to aspiring artists?
Don't compare yourself to others. Just focus on enjoying the process and what you create. You never know whom you may be inspiring.
 Where can people find your work?
You can find me at @colormadehappy on Instagram, Facebook, TikTok and YouTube. You can also find many of my tutorials at colormadehappy.com. 
What is one thing people might not know about you?
I happen to be very good at old-school video games like Pac-Man, Frogger, Galaga, etc. And if you challenge me in ping-pong, be prepared for my competitive side to come out. `
What is your favorite quote or mantra to live by?
Art doesn't have to be complicated to be beautiful.